Quality Management System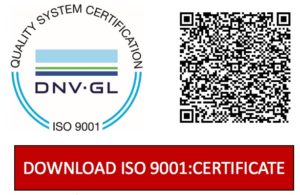 VI.PA. firmly believes in the definition of an excellent Quality System as an engine for company growth. This mentality comes from afar; in February 1995 the company obtains the quality certificate according to the UNI EN ISO 9002: 1994 standard.
In 2003 VI.PA  obtained the certification of its Quality System in compliance with the UNI EN ISO 9001: 2000 standard. Subsequently, in 2010, the system was updated the new UNI EN ISO 9001: 2008 standard.
In 2018 the transition of the Quality Management System in compliance with ISO 9001: 2015 was successfully carried out.
Environment

VI.PA. joins the Responsible Care® program.
Responsible Care® is an international chemical industry voluntary initiative establishing specific requirements, principles and behaviour about environment , health protection and safety of workers which compliance is verified by periodic independent audits.
This initiative is promoted by CEFIC (Conseil Européen de l'Industrie Chimique), that in Italy is represented by Federchimica (the Italian association of chemical industries) and numbers among its participants all the most important international chemical industries.